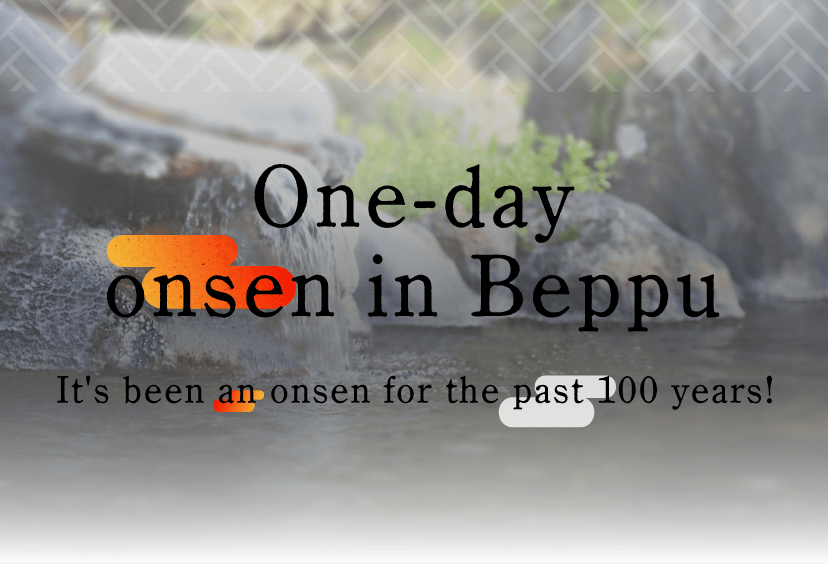 One-day onsens can be found in many places nowadays.
Many people think all hot-spring facilities change their bath water or have free-flowing spring water. Actually, however, such facilities are very rare!
You can enjoy genuine 100% natural hot spring water flowing freely at Hyotan Onsen!
There are many other features, such as sunayu sand bath and mushiyu steam bath heated with steam from hot springs in Beppu.
Furthermore, you will enjoy local specialties including jigokumushi, or dishes steamed in hot spring steam.
Free 100% natural spring water foot bath

The foot bath appears first when you arrive at Hyotan Onsen. Hyotan Onsen created a special means to cool down the natural hot springs using what is now call Yumetake. There is a model of the Yumetake for you to see how it works. There is a model of the Yumetake for you to see how it works. Please allow yourself time to get familiar with your surroundings here before taking a bath, and enjoy a drink while relaxing after your bath. There are many ways to enjoy the facility, please let our staff know if you need anything.

Onsen steam inhalation station

The temperature of hot spring source is high enough that steam comes out from everywhere. You can inhale plenty of onsen steam directly from the source at our onsen inhalation station next to the courtyard. Hot spring inhalation is beneficial for your throat and skin. ♪ Ladies, please give it a try.

Lucky spring water

The water coming out from the gourd shaped drinking fountain in the courtyard is directly pumped from the source of natural hot spring, it is safe to drink. We named the water "Lucky spring water". It is said drinking this onsen water gives you luck on days of 8s'. Analysis results show that the spring water is beneficial for constipation, chronic gastrointestinal diseases, and etc., it is also beneficial for both skin and health. Please give it a try.

Jigoku steam course meal
2,300yen (tax included)
Simmered red snapper head meal set

1,200yen (tax included)

Pork Jigoku steam mix

1,400yen (tax included)

Local Oita raised・Toriten (fried chicken) meal set

1,100yen (tax included)

Jigoku-mushi vegetables

700yen (tax included)

A place to sit back and relax with your family or friends
We have increased the number of tables and tatami space in the rest area so that family members can spend time together after taking a bath.
Please spend more time at leisure in this place even after relaxing in 100% free-flowing natural hot spring.