Befor & After
HOME > Befor & After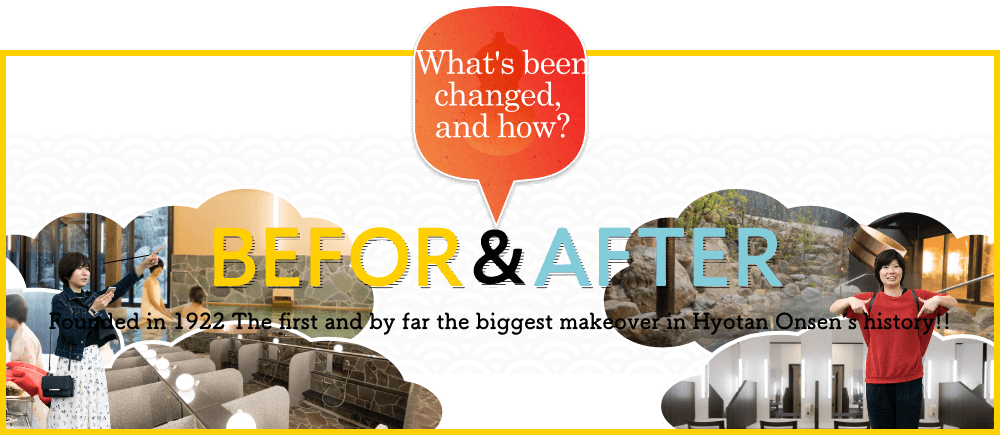 We're back! Hyotan Onsen has been completely renewed.
Now that Hyotan Onsen is much better equipped and more spacious than before,
you can sit back and relax in bath rooms and other facilities.
While our adherence to 100% natural hot spring water remains the same,
our facilities have been renovated to have more space and cleanliness
so that visitors can spend a more pleasant and relaxing time.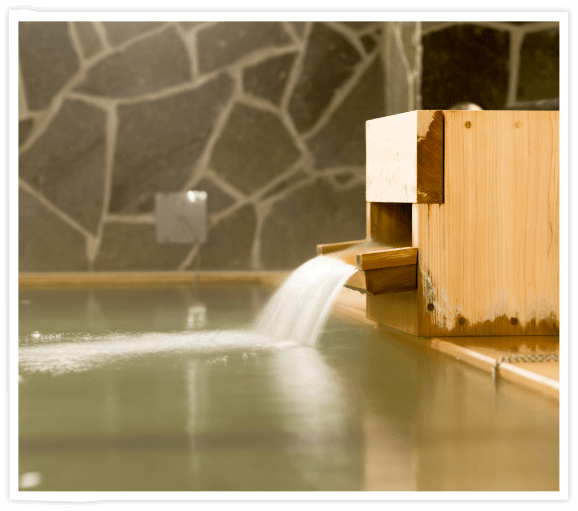 Free-flowing 100% natural hot spring water remains the same.
Hyotan Onsen promises to provide free-flowing 100% natural hot spring to all of our guests.
All onsen in our facility only use natural hot spring water.
Natural onsen water causes much less irritation to your skin, so you will feel its smooth and penetrating texture.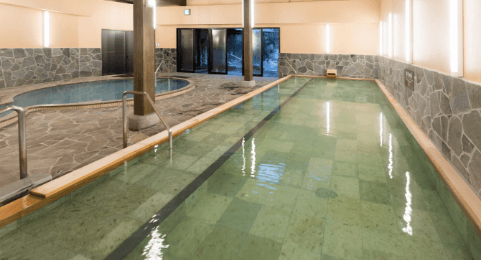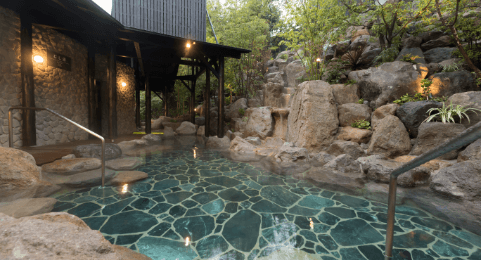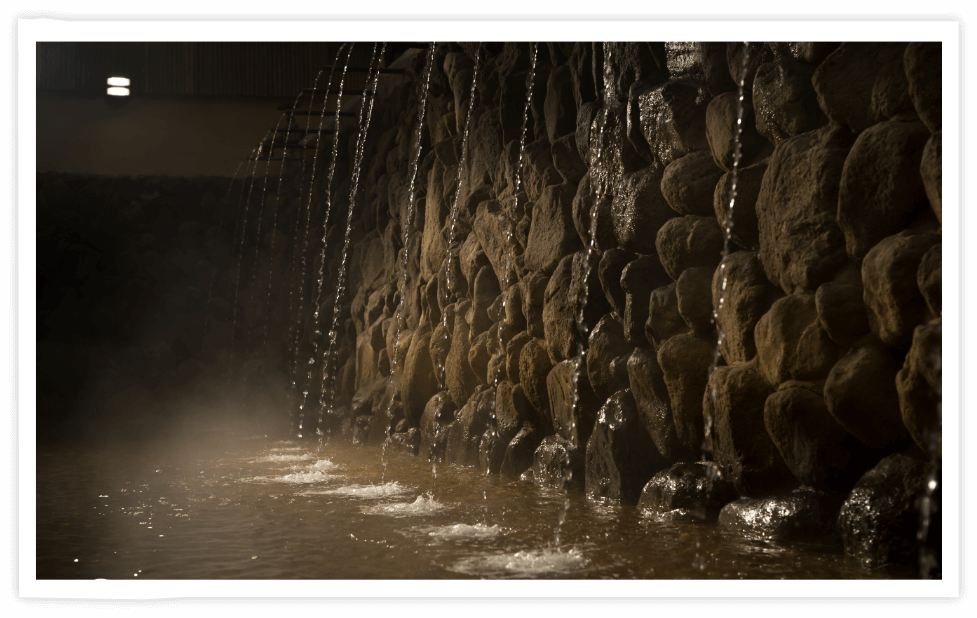 Takiyu waterfall bath gives you the real pleasure of free-flowing 100% natural hot spring water.
One of Takiyu, or utaseyu, poured from the height of 3 meters, is among the most popular onsen.
Onsen waterfalls, 8 in women's bath and 19 in men's bath, give strong impressions with their spectacular amount and roaring sound.
The height and amount of falling water give enough pressure to massage your shoulders and back.
Falling water down on the head invokes an image of a monk exercising asceticism, which is very popular to children and the young.
Try cold spring water, not hot spring water
Hot spring water at 100℃ is cooled down to 47℃, while running through yumetake, cooling device made of bamboo, and delivered to each onsen bathtub.
We cool the cooled water again with yumetake to room temperature for cold hot spring "low temperature onsen bath."
This cold water bath with 100% hot spring water is good to cool off your body warmed in hot onsen.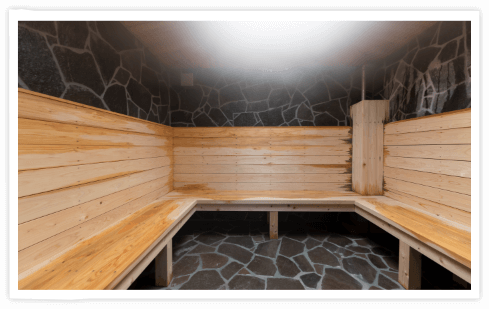 Make your skin more beautiful in mushiyu, where you don't soak but get covered with steam.
Another recommendable bath is mushiyu steam bath with steam from hot spring.
Since a good amount of steam covers your whole body, it makes your skin smooth, minerals in it are efficiently absorbed, and relieves fatigue.
Inhale minerals in onsen water through your mouth and nose, too.
And then, cool off your steamed body in the cold spring water bath.
Let's go to onsen with the children. It'd be really helpful
and make us happy! There are more nice facilities.
Some guests accompany their children to enjoy onsen.
There was no space for children to spend comfortably in the bath house before.
We've tried to make it possible for children to be with their family without any anxiety or danger.
We tried to make it possible for adults to spend relaxing time with their children.
Now there is a new space exclusively used by families with children in each facility.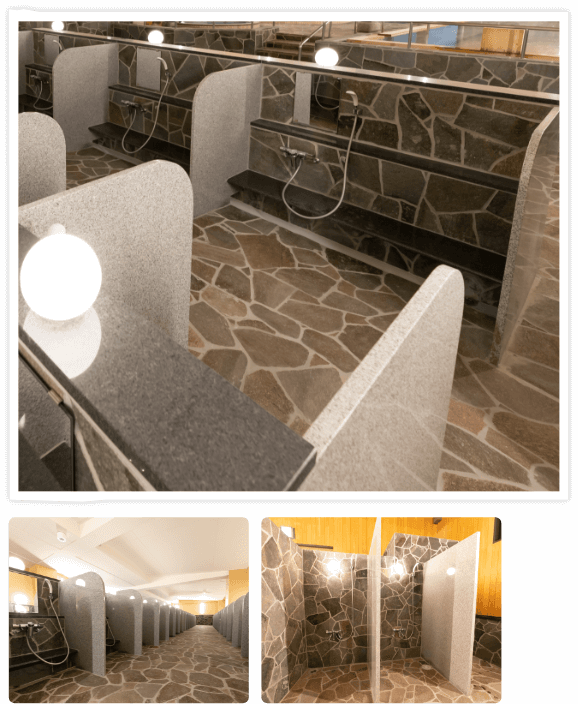 There is now family space in the bath house
When visiting onsen, adults want to try various types of baths.
With their children, however, parents worry for them, thinking that they must always take their kids around with them, or that it is hard to wash them sitting on the slippery floor.
We have set up family space in the corner of the shower space and give priority to families with small children.
Children will enjoy relaxing, bathing more in separated shower space than washing with their mothers shoulder to shoulder in large washing space. Their mothers will not need to care about other visitors around them, which will ease their tension.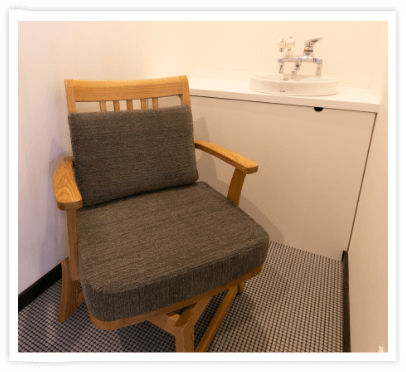 Nursing room has been added, and dressing room has become larger.
Changing space for one person is not enough for a guest with a baby.
Mothers need to feed milk while they are in the facility sometimes.
Therefore, we decided to meet the needs of family guests and newly set up a nursing room and set aside enough space for them in the changing room.
Now, you do not have to keep your children staying in a remote place in bath room, or feed your baby hiding in a small corner.
Have a happy family time after bathing. There is a place where you can spend relaxing hours with your children.
We have increased the number of tables and Tanami space in the rest area so that family members can spend time together after taking a bath.
Children tend to get excited in large space. If the space in not large enough, their parents will think about other visitors around them. We think both adults and children need a place to spend more time leisurely after relaxing in free-flowing hot spring water.
Please use complimentary tatami space and tables in Hyotan Onsen's restaurant Yurari which serves set menus and course menus with local ingredients of Oita Prefecture.
Added free parking lots to ease stress from congestion.
It is the reason we expanded free parking lot that we wanted to offer time for relaxing to as many guests as possible.
Now there is a free parking lot to accommodate a larger number of cars so that you can enter the facility smoothly anytime.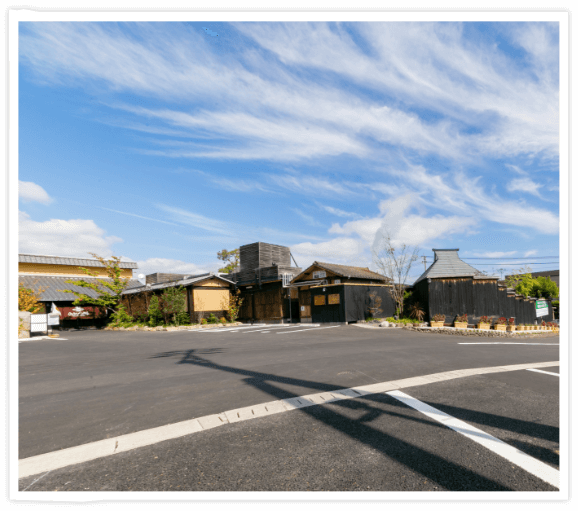 Free parking lot available
Hyotan Onsen has many visitors including tourists and local residents.
As bathing facility is so spacious and has many types of bath, many visitors want to enjoy pleasant hours to their heart's content.
Meanwhile, others have had to wait for a space to park their car in the parking lot before bathing in the onsen.
We were very sorry that our guest had to kill time in their car waiting for a parking space to become available before being able to enjoy onsen which was their purpose.
It is our ideal that all our guests, both of whom want to enjoy Hyotan Onsen thoroughly and to those who just stopped by, enter the facility smoothly.