Facility Information
HOME > Facility Information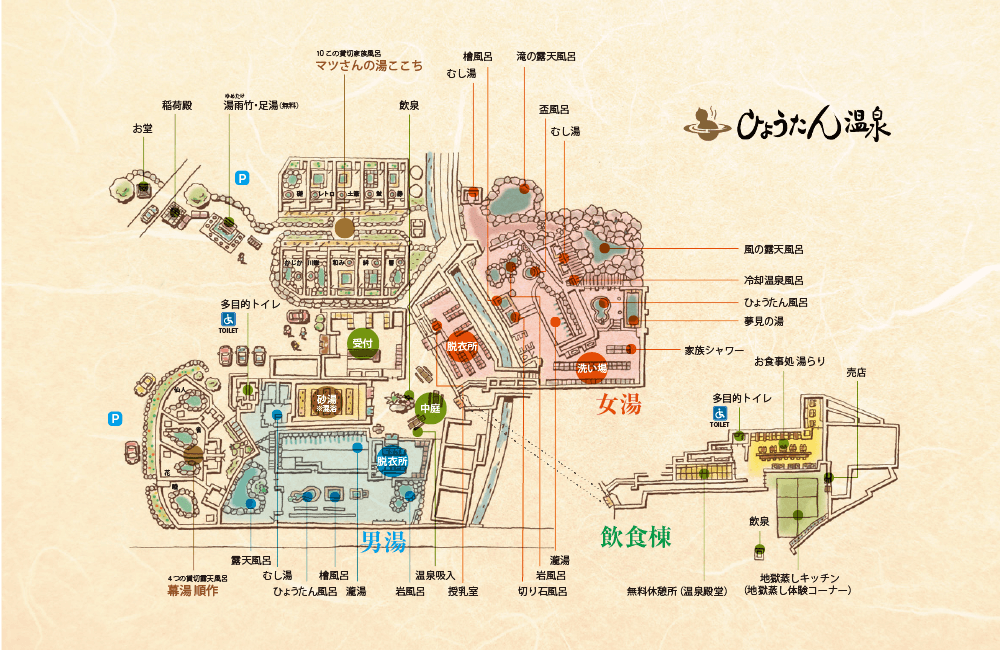 Facility Information
Free parking lot available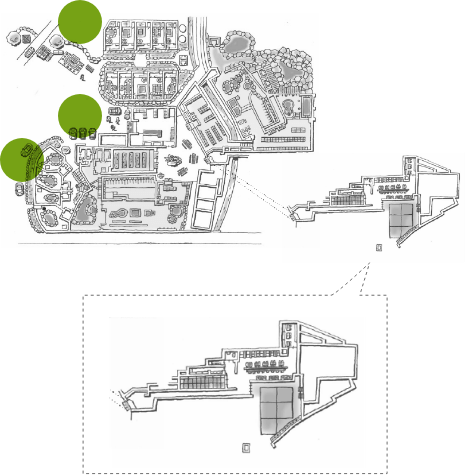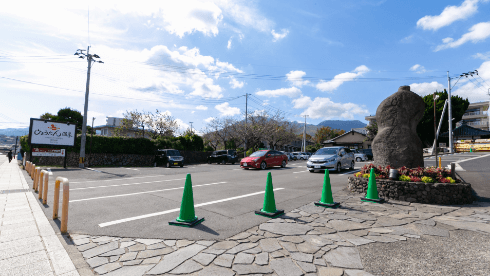 Free parking lot available
Private cars and sightseeing buses can park for hours.
Taking the opportunity of this renovation, parking spaces have increased from the 80 slots for private cars and motor coaches to much much more.
Since parking is free of charge, please enjoy onsen without worrying about bathing time.
Car:About 80(Large and microbuses can also be parked)
Parking Fee:Free
If you are traveling in groups or buses,
be sure to reserve bus parking.
Pass through the yukemuri steam from the onsen, go through the entrance, and then prepare for bathing.
Go straight to the entrance with clouding steam of hot spring. Foot bath, ashiyu in front of the entrance is available for free.
Enter the building, and purchase a ticket for your favorite onsen course. After checking in, go through the entrance of onsen area and to women's bath on your left or men's bath on your right.
Reception time:AM9:00 〜 AM1:00
Dressing room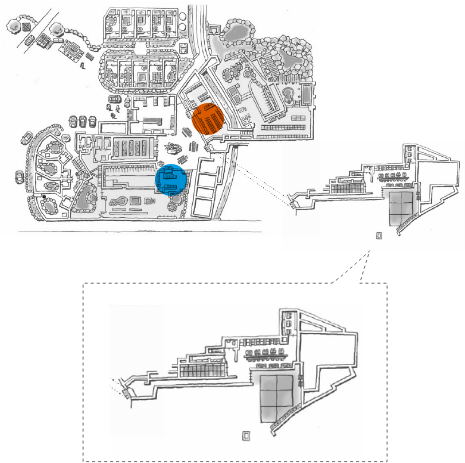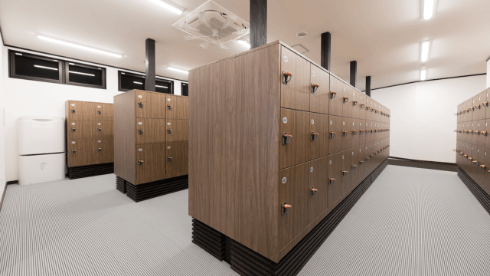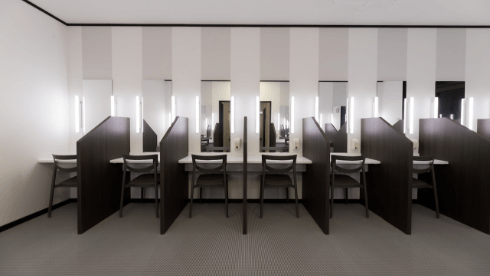 Dressing room in women's bath has divided into spaces, each of which is enough large for a guest to change clothes. There's a nursing room which help mothers come and enjoy onsen, and powder room with a large mirror for grooming.
All bath water in bath house is free-flowing 100% hot spring water.
Open the door in dressing room to large public bath, you will find various types of onsen there, utaseyu, hinokiyu, open-air bath, hyotan-shaped bathtub, made of stone, rock, wood and others.
All the baths are onsen with "free-flowing 100% hot spring water."

Women's bath is designed for guests to circulate through, from the entrance, to large bath, spacious open-air bath, mushiyu, renovated hyotan-shaped bath, and shower space.
"Takiyu" or utaseyu is bath with hot spring water falling down from a height. There are 19 takiyu in men's bath and 3 in women's bath. For the mushiyu, choose the warmth between high and low temperature steam baths.

Even water for cool bath and steam for mushiyu are controlled by using cooled hot spring water without tap water or no-mineral spring water. All water is 100% natural hot spring water, with no additives.
(Women's bath)shower:58 pieces | Baths:11 pieces
(Men's bath)shower:20 pieces | Baths:8 pieces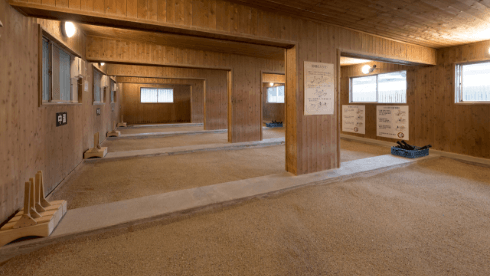 Smooth sand steamed in hot spring steam warms you gently.
Sand in sunayu space is all sea sand of Beppu. Sand, heated with about 100℃ steam from hot spring, is light and smooth, unlike heavy, wet, sticky sand in other places.
Please enjoy lying on the sand leisurely, as we do not limit your bathing hours.
You can control the sand temperature by adjusting the amount of sand on your body. You will feel the inside of your body warm gradually and gently.
Maximum capacity:30 people
We are particular about the atmosphere of reserved private bath rendering calmness and special hospitality.
If you want to spend happy hours with your family, we recommend you reserve a private bath.
Each private bath is an independent house with an ambiance of a villa and unique atmosphere different from any other private bath, which we care about.
"Makuyu Junsaku" composed of 4 open-air baths where you feel the breeze and the sense of freedom. Rock bath and bathtub made of natural wood, and "Matsu-san no yukokochi" comprising of 10 types of family baths including a bathhouse which in a style of a retro second house.
Water in all reserved private bath is changed after each use. Bath is refilled with hot spring water by using a token. You can reserve family baths in advance.
Please enjoy private baths where you and your company can spend "special" time.
Reservation by phone: 10 rooms (Reservation: 0977-67-3010)
On-site reservation: 4 rooms
Court area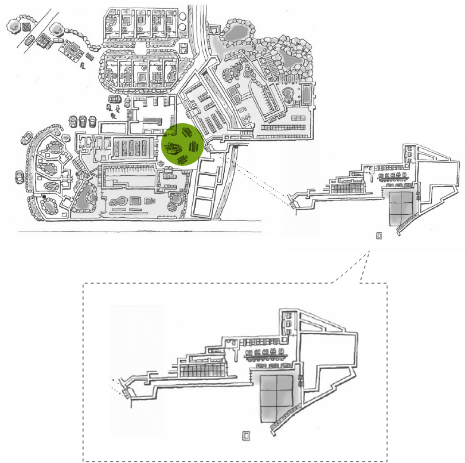 To cool off your warmed body or to take a short rest, the court is an ideal place.
On your way from one bath to another, such as sunayu to large bath, you can take a rest in this court.
It will be nice to look up at the rising steam from 100% natural hot spring while cooling off your warmed body.
It is tasteful to spend time sitting in a chair in the court. Eggs boiled with onsen steam and cold juice are sold there. Before going on to the next bath, enjoy relaxing in the court.
Rest Area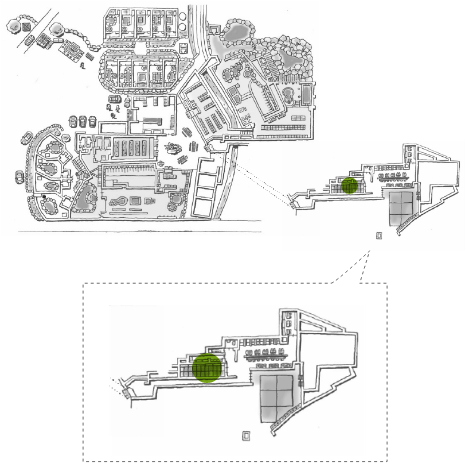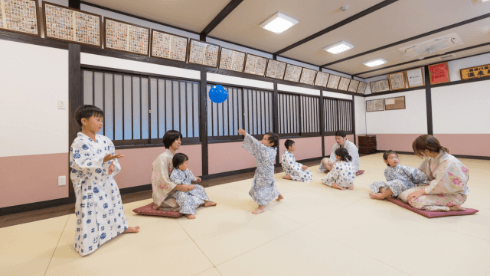 There is a large rest house next to the restaurant. Please use the hall to meet your family members and enjoy a pleasant chat.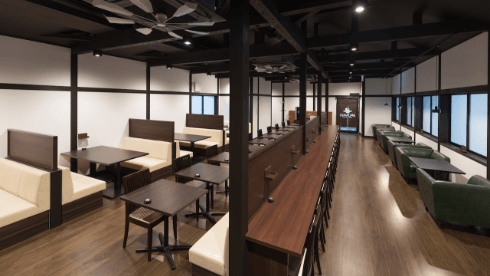 "Hyotan Onsen's restaurant, Yurari"
We offer various menus for adults and children to choose from and be satisfied.
An addition to our facility's remodeling during Dec. 2019, we renovated "Hyotan Onsen Restaurant Yurari," as well.
Put on a set of yukata (Kimono style pajamas) and let your body enjoy the last few remnants of the natural hot springs, while you take time to relax with a drink or a meal. This makes you feel like had a short trip at a ryokan.
With our brand new remodeled space and new menu, Hyotan Onsen is ready to bring our guests the best delicacies to enjoy.

Foot bath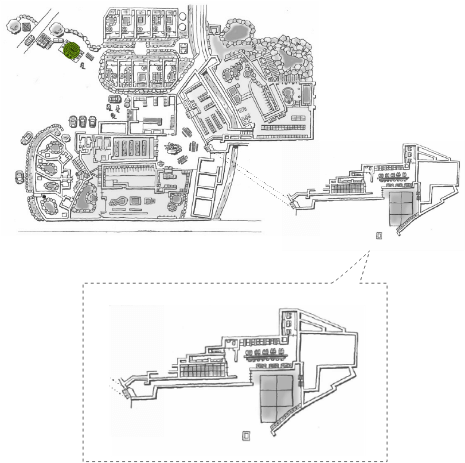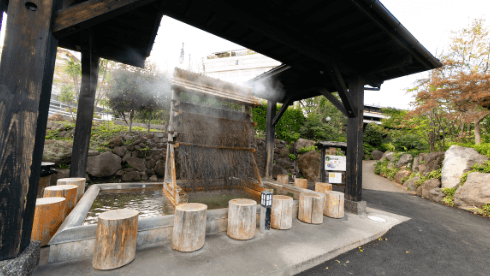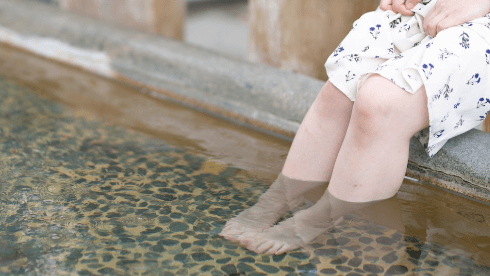 The foot bath appears first when you arrive at Hyotan Onsen.
Hyotan Onsen created a special means to cool down the natural hot springs using what is now call Yumetake. There is a model of the Yumetake for you to see how it works.
Allow yourself time to get familiar with your surroundings here before taking a bath, or enjoy a drink while relaxing after your bath. There are many ways to enjoy the facility, please let our staff know if you need anything.
Kan'nawa, Beppu is a hot spring town, where many ryokans and onsen houses are located.
The natural scenery and the clouds of steam always help our visitors relax and renew,
making ours town popular to both domestic and overseas travelers.
By all means, please visit Hyotan Onsen, while enjoying the unique views of Kan'nawa, Beppu on your way.