Hot spring
HOME > Hot spring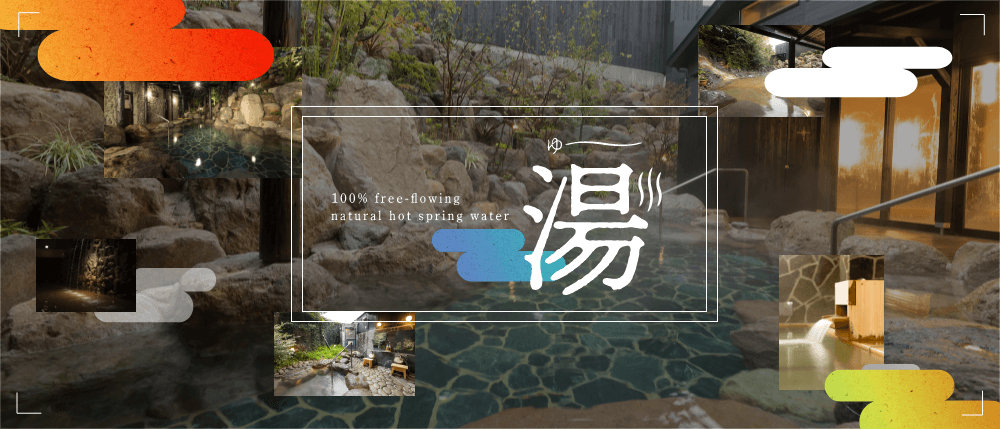 This is Hyotan Onsen, a day trip hot spring facility located in Kannawa, Beppu City, Oita Prefecture!
Hyotan Onsen is a unique facility where you can enjoy hot springs in various ways, including our drinking fountain and sauna inhaling station.
Please visit Hyotan Onsen and enjoy the many ways to relax here.


Large public bath is one of
the various types of hot springs at Hyotan Onsen
Yumetake, our unique hot spring water cooling system made of bamboo,
makes our free-flowing 100 % natural spring water onsen possible.



Sand bath at Hyotan Onsen warms you up gently and gradually
Didn't know taking sand bath could be this comfortable!
Hyotan Onsen's sand bath keeps its temperature milder than sand baths at other facilities,
because it is heated by the steam from natural hot spring. As this gently heated sand bath prevents dizziness, guests can enjoy it longer.



It feels like a monk being purified at practice
Men's bath has 19 hot spring waterfalls, and women's bath has 8
Takiyu, or Utaseyu meaning pelting water, is one of the hot spring therapies, quite different
from common bathing style of soaking in onsen. Water falling onto a specific part of your body,
such as shoulders and back, to improve blood circulation. Pressure of pelting water has a similar effect as massage,
relieving stiff muscles, and easing back pain, stiff shoulders and others. Takiyu is named after taki or waterfall.



Little by little, warm up in clouds of steam…
Try the natural sauna!
Hyotan Onsen is located in a traditional atmosphere with clouds of rich steam.
Even in Beppu, it is said that the oldest cityscape of Beppu remains.
This is because the clouds of steam are rising from almost every corner of the town.
Hyotan Onsen in Kan'nawa, offers you an experience of plentiful thick steam and gradual heat.
When you step out from our steam bath, your body is gently and comfortably warmed,
you will feel completely refreshed like you were in heaven.
This pleasant feeling can even become addictive.


The open-air bath is of course 100% free-flowing natural hot spring water.
Feel warm and comfortable,get lost in the moment as you look up
at the sky over the hot spring resort town, Kan'nawa
Be captivated by the night sky as you bathe and relax.
Hyotan Onsen's open-air bath has great reputation of being cozy which makes you want to stay longer than intended.



Choose your favorite family bath
from our 14 different themes and setups
There are 8 styles of indoor baths and 6 of open-air baths at Hyotan Onsen.
Each bath has a unique theme, you can choose one that suits your taste from the 14 styles which are full of character.
Each bath includes a sauna, allowing you to experience a steam bath with your family.


Free 100% natural spring water foot bath

The foot bath appears first when you arrive at Hyotan Onsen. Hyotan Onsen created a special means to cool down the natural hot springs using what is now call Yumetake. There is a model of the Yumetake for you to see how it works. There is a model of the Yumetake for you to see how it works. Please allow yourself time to get familiar with your surroundings here before taking a bath, and enjoy a drink while relaxing after your bath. There are many ways to enjoy the facility, please let our staff know if you need anything.

Onsen steam inhalation station

The temperature of hot spring source is high enough that steam comes out from everywhere. You can inhale plenty of onsen steam directly from the source at our onsen inhalation station next to the courtyard. Hot spring inhalation is beneficial for your throat and skin. ♪ Ladies, please give it a try.

Lucky spring water

The water coming out from the gourd shaped drinking fountain in the courtyard is directly pumped from the source of natural hot spring, it is safe to drink. We named the water "Lucky spring water". It is said drinking this onsen water gives you luck on days of 8s'. Analysis results show that the spring water is beneficial for constipation, chronic gastrointestinal diseases, and etc., it is also beneficial for both skin and health. Please give it a try.
Amenities

Rental bath towel
(Rental: 200 yen including tax)

Yukata
(Rental: 300 yen including tax)

Rinse in shampoo&
Body soap (FREE)

Hairdryer
(FREE)

Amusement
(standard)
Quality
Spring quality
Sodium - chloride spring (Mild acidic hypotonic hyperthermal spring)
Temperature
Source temperature: 100.4℃ (212.72℉) pH:3.1
Spring volume: 500ℓ/min
(Analysis date: February 22, 1994 Oita Prefectural Institute of Health and Environment)
Benefit
neuralgia, muscle pain, joint pain, frozen shoulder, motor paralysis, joint stiffness, bruise, sprain, chronic gastrointestinal disease, hemorrhoids, coldness, recovery phase,
Fatigue recovery, health promotion, chronic skin disease, cuts, burns, physically weak children, chronic gynecological disease, Chronic constipation
※ It is beneficial for chronic gastrointestinal diseases when drinking.
- Patient should not bathe (Contraindications for bathing)-
Acute illness (especially fever), active tuberculosis, cancer, severe heart disease, respiratory failure, renal failure, hemorrhagic disease, severe anemia, other issues with ongoing diseases, or during pregnancy (especially first and last trimester).
Amenity
Hair dryer, 2-in-1 shampoo, body soap
Bathing Time
Family baths reception is up to 12:00 AM.
※Please bring your towels or bath towels. There are also towels available for purchase.

Access
Kan'nawa, Beppu is a hot spring town, where many ryokans and onsen houses are located.
The natural scenery and the clouds of steam always help our visitors relax and renew,
making ours town popular to both domestic and overseas travelers.
By all means, please visit Hyotan Onsen, while enjoying the unique views of Kan'nawa, Beppu on your way.